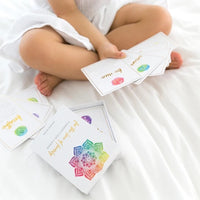 For The Love of Family Connection Cards
For The Love of Family Connection Cards will bring more connection, laughter, hugs and presence into your home. 
Created by Jayden Khan, who runs his own business as part of his home schooling curriculum (how inspiring is that?!)

The 52 cards in this deck are perfect for families with kids aged between 5 and 12. They are filled with short activities that you can do on 'family date night'. 
With a card for each week of the year, they will help your family come together and nurture your relationships with one another
Feel special, loved and valued.
Practice gratitude and appreciation.
Invite spirituality and mindfulness into your home.
Have fun and try new things!

Your pack also comes with a helpful card that explains how to use your deck.