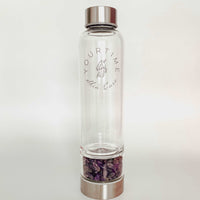 These crystal water bottles, adorning the YourTime Skin Care logo, are a special way to stay hydrated. The chamber at the base of the bottle allows you to add your favourite crystals to infuse your water with the crystal's energy, and the screw base allows the crystals to be changed as your spiritual and emotional needs dictate.

With your choice of Rose Quartz, Clear Quartz or Amethyst crystal, thus glass bottle comes in a white cardboard cylinder with grey neoprene sleeve.
Please hand wash carefully.