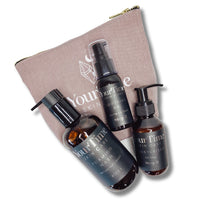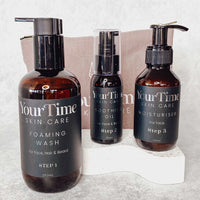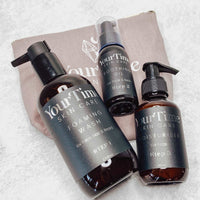 Men's Skin Care Bundle - SAVE 20%
With 3 easy to follow steps for daily skin health, this bundle includes:

250mL Foaming Wash for Face, Beard and Hair - clean the works with the Foaming Wash, designed to easily remove the day's dirt without stripping the skin. Formulated to gently remove dead skin cells and reduce blackheads with every wash.
50mL Soothing Oil for Face & Beard - so many customer's report that their partner deals their Soothing Oil Elixir... Well, no more! He's got his own Soothing Oil to apply to face and beard! Nourish, soothe and repair the skin and facial hair after a day in the sun and wind.
100mL Moisturiser for Face - Lightweight and fresh! Contains plant derived probiotics to help restore a healthy skin microbiome, control oil flow, blackheads and breakouts and lightly moisturise the skin without feeling greasy.
Also included is the Cotton Travel Bag in grey, so he can take his new favourites wherever his adventures take him.
Full RRP Value $219.95
 Limited Edition and limited stock, when they're gone - they're gone!